Job:
Family: Spider
Crystal: Earth
Weak against: Ice

Notorious Monster
Zone

Level

Drops

Steal

Spawns

Notes

69

1

A, L, H
??? HP


A = Aggressive; NA = Non-Aggresive; L = Links; S = Detects by Sight; H = Detects by Sound;
HP = Detects Low HP; M = Detects Magic; Sc = Follows by Scent; T(S) = True-sight; T(H) = True-hearing
JA = Detects job abilities; WS = Detects weaponskills; Z(D) = Asleep in Daytime; Z(N) = Asleep at Nighttime; A(R) = Aggressive to Reive participants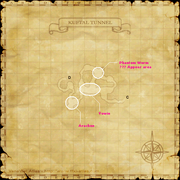 Notes
(see testimonials)
Historical Background
In Greek mythology, Arachne was a great weaver, so great in fact, that she thought herself better than Athena. Athena was angered, but gave Arachne a chance to redeem herself. Assuming the form of an old woman, she warned Arachne not to offend the gods. Arachne scoffed and wished for a weaving contest, so she could prove her skill. Athena dropped her disguise and the contest began.
Athena wove the scene of her victory over Poseidon that inspired the people of Athens to name their city for her. Arachne's tapestry featured Zeus: Zeus being unfaithful with Leda, Zeus being unfaithful with Europa, Zeus being unfaithful with Danae. Even Athena admitted that Arachne's work was flawless, but was outraged at Arachne's disrespectful choice of subjects. Finally losing her temper, Athena destroyed her tapestry and loom, and struck Arachne on the head. Arachne realized her folly and was crushed with shame. She ran off and hanged herself.
Athena took pity on Arachne. Sprinkling her with the juices of aconite, Athena loosened the rope, which became a cobweb, while Arachne herself was changed into a spider. She now weaves tapestries in the form of webs.
Community content is available under
CC-BY-SA
unless otherwise noted.