Statistics
Stackable: Not Stackable
Other Uses
Synthesis Recipes
None
Used in Recipes
Desynthesis Recipes
None
Obtained from Desynthesis
How to Obtain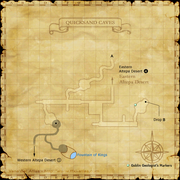 Obtained by checking a ??? in Quicksand Caves
Possible spawn points: (G-10) on the first map; (H-7), (D-11), and (M-9) on the second map
??? respawns every 1-2 hours
The ??? can move between spawn points every minute. Randomly respawning at the same spawn point can make it appear to last longer at a given location at times.
The ??? will not be static. If you receive a "Nothing out of the ordinary here." message, it is the incorrect one.
Community content is available under
CC-BY-SA
unless otherwise noted.