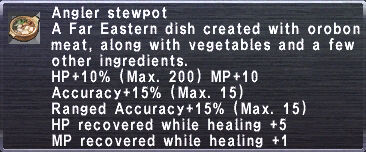 Statistics
Angler stewpot
A Far Eastern dish created with orobon
meat, along with vegetables and a few
other ingredients. Each piece of food
may be removed and eaten as soon as
it has finished cooking.
Stackable: Not Stackable
Food Effects:
(
3 hours
,
All Races
)
Other Uses
Synthesis Recipes
Yield: Angler Stewpot x 1
HQ 1: Prime Angler Stewpot x 1
HQ 2: Prize Angler Stewpot x 1
Used in Recipes
Desynthesis Recipes
None
Obtained from Desynthesis
How to Obtain
Can be obtained as a random reward from the Gobbie Mystery Box Special Dial and similar sources.
Only obtainable through synthesis.
Community content is available under
CC-BY-SA
unless otherwise noted.