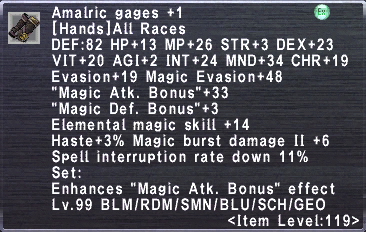 Statistics
Set Effect:
Each piece beyond the first will increase Magic Attack Bonus by 10 cumulatively per piece, starting at 20
So with 2, 3, 4, 5 pieces will be +20, +30, +40, and +50 respectively.
View the entire

Amalric Doublet +1 Set

.
Other Uses
Arcane Glyptics Inscription: Can be augmented by Nolan with Eschalixirs/+1/+2
How to Obtain
Cannot be auctioned, traded, or bazaared, but can be delivered to a character on the same account.


Cannot be obtained as a random reward from the Gobbie Mystery Box Special Dial and similar sources.
Abjuration