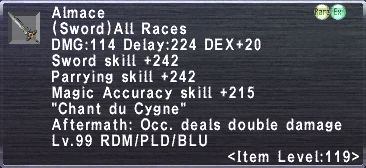 Statistics
Damage Per Second: 30.54
TP Per Hit: 60
Other Uses
How to Obtain
Upgraded from Almace (99) for qualified players using 300 Riftborn Boulders.
Historical Information
In the epic poem La Chanson de Roland ("Song of Roland"), Almace (alternatively Almice or Almacia) is the sword of Turpin, Archbishop of Reims, one of the last three Franks to die at the Battle of Roncevaux Pass, along with Roland and Gualter de Hum.
The etymology of the name is uncertain, but it may be derived from German, or from the Old Norse all macht, meaning Almighty.