Raise a Floppa - The Loop
Play Sound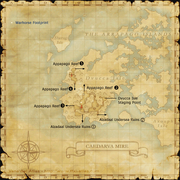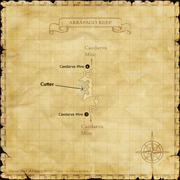 Walkthrough
Travel to the Cutter in Arrapago Reef (H-8), and approach it for a cutscene. This can be reached at (G-9) on Dvucca Isle, the same map as the Dvucca Isle Staging Point.

Dvucca Isle Staging Point can be reached from the Nyzul Isle Staging Point: Take the northwest teleport at (G-8), then the west teleport, and then exit. From there, travel northwest and then eastward to the staging point at (I-9).
Alternatively, from Nashmau, take the west exit into Caedarva Mire, pay an Imperial Silver Piece to the Immortal (E-11) to enter Alzadaal Undersea Ruins, take the teleport, and then exit. From there, travel westward to Arrapago Reef marked as #3 entrance on Caedarva map (F-9).
For the fastest route, if you already have the Caedarva Mire Survival Guide. You can use the Survival Guide and then travel South to the #4 entrance to Arrapago Reef.

Examine the Cutter (H-8) and select "The Black Coffin" to enter an uncapped, 6-player battlefield.
Upon victory, you will be transported to Nashmau for a cutscene.

Participants who have already completed the mission will remain on the dock of the Cutter.
Battlefield
Game Description
Mission Orders

A mercenary colleague has reported feeling an ominous presence to the west of Dvucca Isle...
Battle Video