| | |
| --- | --- |
| Start NPC | Vrednev, Sauromugue Champaign (J-7) |
| Objective | Examine ??? targets. |
| Area | Ghoyu's Reverie |
| Time | 15 minutes |
| Goal 1 | Examine 2 ??? targets. |
| Goal 2 | Examine 3 ??? targets. |
| Goal 3 | Examine all ??? targets without being detected. |
Walkthrough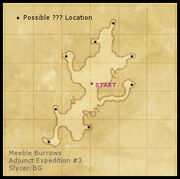 Complete at least 1 goal to complete the expedition.
??? spots spawn in 4 of 8 possible locations at the ends of tunnels around the perimeter of the area; refer to map.
True-sight Peckish Cockatrices roam the area. If they aggro or link, you fail goal 3.

A message alerts you that your foes have discovered you.
If an offensive action is performed against a Peckish Cockatrice before it has aggroed, you can then kill that monster without failing goal 3.
The Peckish Cockatrices can be put to sleep, but when they wake and pursue you, they may cause a link that causes you to fail goal 3.

Only one player needs to click a ??? for it to count for everyone.
Cliffs and ramps impede travel through the area.
Monsters:
Community content is available under
CC-BY-SA
unless otherwise noted.