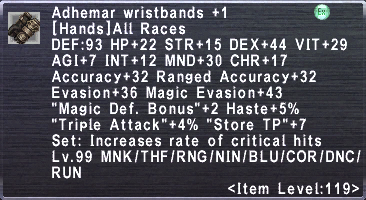 Statistics
Set Effect:
Each piece beyond the first will increase the Critical Hit Chance by 2% cumulatively per piece, starting at 4%
So with 2, 3, 4, 5 pieces will be +4%, +6%, +8%, and +10% respectively. In the December 10, 2015 Update, the official forums listed different stats for this item than are stated on the item infobox. The wiki statbox has the corrected values.[1]
Other Uses
Arcane Glyptics Inscription: Can be augmented by Nolan with Eschalixirs/+1/+2
How to Obtain
Cannot be obtained as a random reward from the Gobbie Mystery Box Special Dial and similar sources.
Abjuration
References
Community content is available under
CC-BY-SA
unless otherwise noted.