| | |
| --- | --- |
| Mission Name | A Geological Survey |
| Number | 1-2 |
| Level | 5-8 |
| Repeatable | Yes |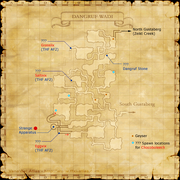 Walkthrough
After accepting the mission, head to the Metalworks.
Look for Cid in Cid's Lab.
Visit the Dangruf Wadi area, located in the southwestern corner of South Gustaberg.
Head to the geyser located at (I-8) and stand in it until it propels you to the ledge above.
There are Goblins in this area that may aggro while waiting for the geyser.
Game Description
Mission Orders

Assist Chief Engineer Cid in conducting an analysis of the gaseous emissions in the Dangruf Wadi. Meet with Cid for a more detailed explanation.