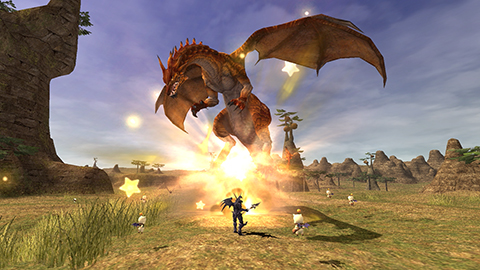 Walkthrough
Touch the sparking Mystic Upswell at either West Ronfaure (I-6), South Gustaberg (J-7), or West Sarutabaruta (J-8) to make Kupofried appear. Kupofried explains the event and gives you your Wyrmking Masque and Wyrmking Suit.
Put the costume on and touch the Mystic Upwell and choose "Get moogle magicked." You will be level synced to 5 and your equipment will be locked.
Attack Tiamath (Windurst), Vrtrance (San d'Oria), or Jormeander (Bastok).

Each fight lasts 5 minutes.
Quickest way to earn points is healing other players and the npcs.
The Moogle magic does not wear off between rounds, so simply stand around. Next fight will start shortly after the previous fight.
Points stack between rounds.

Return to Mystic Upwell to talk to Kupofried.
Prizes
Buying the Wyrmking set +1 pieces unlocks:
Battle
Content Level is 119.
Time limit is 15 minutes.
Trusts are allowed.
Upon victory, you receive a Fortune Favor. Return to Kupofried to spend it.
Rewards
Video