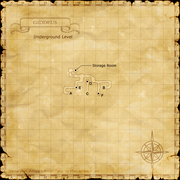 WalkthroughEdit
Talk to Ranpi-Monpi (Northern Windurst Waters) to learn that he cooked a bad batch of food for the Yagudo by accident. Ranpi-Monpi is located in the Culinarians' Guild.
Once you reach Giddeus, head down the ramp behind the food or drink altar (at F-8 or I-8), and go to (F-7) in the cave area. Just walk into the treasure room, even though Uu Zhoumo tells you to go away. Check the altar to receive the Key Item:Off Offering.
Take the Off Offering back to Ranpi-Monpi (just talk to him again).
Note:
It also cannot be completed if The Dawn of Delectability was activated after this quest, until The Dawn of Delectability is finished.
Game DescriptionEdit
Client

Ranpi-Monpi (Culinarians' Guild, Windurst Waters)

Summary

When preparing the food offering as a sign of Windurst's friendship with Giddeus, Ranpi-Monpi accidentally mixed in a liquid that the Yagudo hate. Quickly recover the tainted offering from the altar at Giddeus before ruffling some Yagudo feathers.