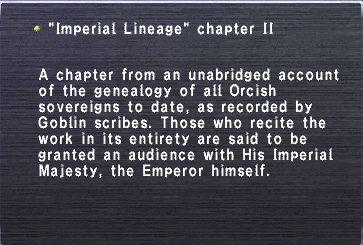 "Imperial Lineage" chapter II
Description:
A chapter from an unabridged account
of the genealogy of all Orcish sovereigns to date,
as recorded by the Goblin scribes.
Those who recite the work in its entirety are
said to be granted an audience with His
Imperial Majesty, the Emperor himself.
Links:
Community content is available under
CC-BY-SA
unless otherwise noted.