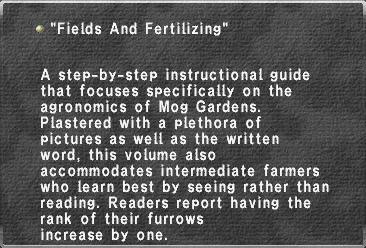 "Fields And Fertilizing"
Description:
A step-by-step instructional guide
that focuses specifically on the
agronomics of Mog Gardens.
Plastered with a plethora of
pictures as well as the written
word, this volume also
accommodates intermediate farmers
who learn best by seeing rather than
reading. Readers report having the
rank of their furrows
increase by one.
LEVEL 4
Community content is available under
CC-BY-SA
unless otherwise noted.