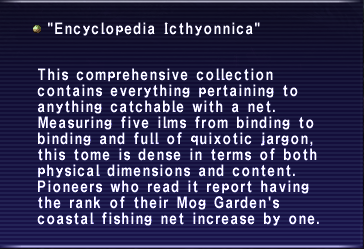 "Encyclopedia Icthyonnica"
Description:
This comprehensive collection
contains everything pertaining to
anything catchable with a net.
Measuring five ilms from binding to
binding and full of quixotic jargon,
this tome is dense in terms of both
physical dimensions and content.
Pioneers who read it report having
the rank of their Mog Garden's
coastal fishing net increase by one.
Community content is available under
CC-BY-SA
unless otherwise noted.