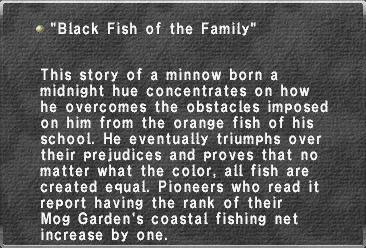 "Black Fish of the Family"
Description:
This story of a minnow born a
midnight hue concentrates on how
he overcomes the obstacles imposed
on him from the orange fish of his
school. He eventually triumphs over
their prejudices and proves that no
matter what the color, all fish are
created equal. Pioneers who read it
report having the rank of their
Mog Garden's coastal fishing net
increase by one.
LEVEL 4
Community content is available under
CC-BY-SA
unless otherwise noted.