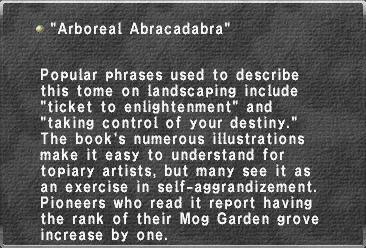 "Arboreal Abracadabra"
Description:
Popular phrases used to describe
this tome on landscaping include
"ticket to enlightenment" and
"taking control of your destiny."
The book's numerous illustrations
make it easy to understand for
topiary artists, but many see it as
an exercise in self-aggrandizement.
Pioneers who read it report having
the rank of their Mog Garden grove
increase by one.
Community content is available under
CC-BY-SA
unless otherwise noted.