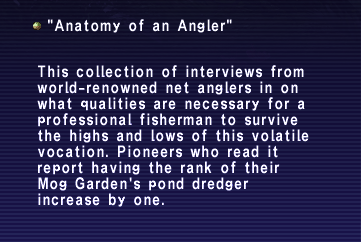 "Anatomy of an Angler"
Description:
This collection of interviews from
world-renowned net anglers in on
what qualities are necessary for a
professional fisherman to survive
the highs and lows of this volatile
vocation. Pioneers who read it
report having the rank of their
Mog Garden's pond dredger
increase by one.
LEVEL 6
Community content is available under
CC-BY-SA
unless otherwise noted.